Burlington Hydro Receives Prestigious 2020 National Safest Employer Gold Award
Canadian Occupational Safety recognizes achievements of a healthy and safe work place
Burlington Hydro is pleased to announce that it has received national recognition from Canadian Occupational Safety for achieving industry excellence in employee health and safety. The company has been awarded Gold in the Utilities and Electrical category as Canada's Safest Employer, sponsored by MSA, the Safety Company.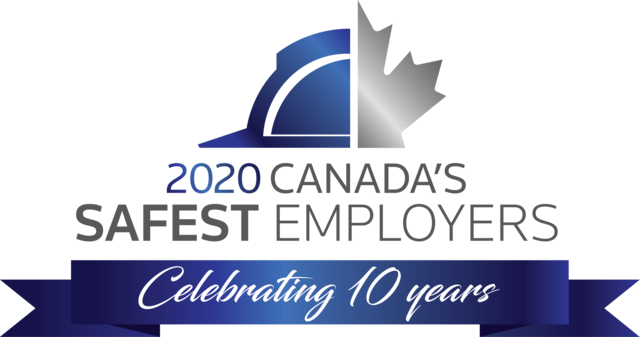 The awards recognize companies from across Canada with outstanding accomplishments in promoting the health and safety of their workers. Companies are judged on a wide range of occupational health and safety elements, including employee training, Occupational Health and Safety management systems, incident investigation, emergency preparedness and innovative health and safety initiatives.
"A passion for improvement is at the heart of a culture committed to safety excellence," says Jennifer Smith, Vice President of Corporate Relations at Burlington Hydro Inc. "Our employees have always been, and continue to be, the reason for our success. We understand that at the core of a safe, talented and inspired company is a highly trained workforce that goes the extra mile and takes pride in serving our community."
Burlington Hydro invests in a safe and respectful workplace where employees are highly valued, treated fairly, and challenged with meaningful work.
"Our safety-first operational culture is committed to continuous improvement through training and professional certification," says Burlington Hydro's Andy Kerr, Director, Health and Safety Security and Environment. "We credit our safety record to the actions of our employees who are empowered to take a preventive approach to safety for both themselves and their colleagues."
Burlington Hydro would like to congratulate our fellow utilities who were also recognized as 2020 Canada's Safest Employer recipients – Gold winner Waterloo North Hydro Inc. and Excellence Award Recipient Energy+ Inc. 
About Burlington Hydro
Burlington Hydro Inc. is an energy services company in the power distribution business. Serving approximately 68,000 residential and commercial customers, Burlington Hydro and its employees are committed to delivering safe, efficient and reliable electricity to the City of Burlington. The utility delivers electricity into the community through a distribution network of over 1,500 kilometers. The company is wholly owned by the City of Burlington. For more information about our safety record, visit our website at: https://www.burlingtonhydro.com/yoursafety.html
About Canada's Safest Employer Awards
Launched in 2011, Canada's Safest Employers awards are presented by Canadian Occupational Safety magazine, a Key Media publication. The awards boast 10 industry-specific categories, ranging from health care to mining and natural resources. The nomination process runs from early February to the end of May annually. Find out more at: https://safestemployers.com/
-end-